Join.Me – is a free online web conferencing tool that enables you to share your desktop to whoever you want to participate or engaged into your meeting or training. Years ago, we've been using Windows NetMeeting to conduct our training or meetings with our colleagues in other parts of the world but we've faced so many problems before we can even start with it because of compatibility issues and/or the NetMeeting application is not yet installed. So it's a good thing that we found Join.Me where we can now conduct our training online without any hassles. And the most amazing about this tool, Join.Me works on any device and platforms available such as Windows, Mac, Linux and can even works on your smartphone, tablet, or iPhone.
At first, we've been using this free online web conferencing tool for training purposes where either we're the presenter or we're the audience or viewer through our desktop computers.  But since I got my Android smartphone, I wondered if this will work on it as well since the only requirements I see needed for this tool to work is the join.me app, a reliable Internet connection, and a web browser.  I checked the Android Market and I was right, Join.Me Viewer is also available and so I downloaded it and installed on my smartphone. Conclusion? It worked!
How to use Join.Me if you're the Presenter or Host
Whether if you're a Windows, Linux or Mac user all you have to do is open a web browser and input this address or URL into the address bar – https://join.me/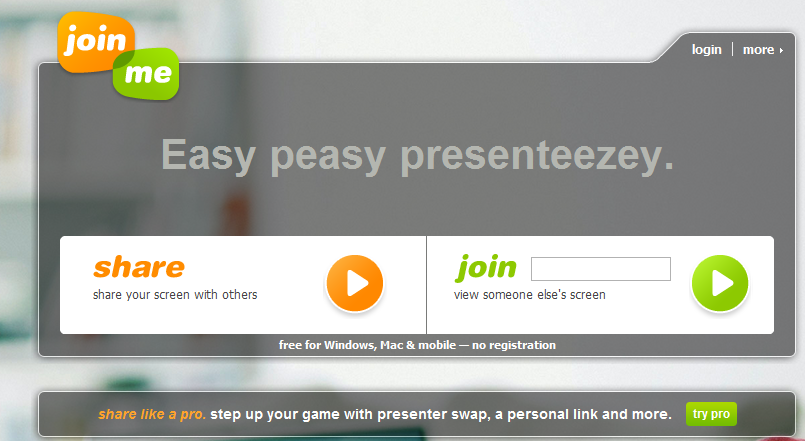 Once you're already on the page, you can either click on Share if you'll be the host (you will share your desktop) or you can join and be a participant into a web conference. Since for this example you'll be acting as the host then click on Share.  After that you'll be asked to save the Join.Me executable file into your computer (join.me.exe for Windows platform), just save it into your desktop and install it afterwards so that you can start sharing your desktop or begin with your web conference.
[warning]
You will only go into https://join.me/ website once because after you install the application into your computer, that will be your tool to either share your desktop or join a web conference.
[/warning]
After the installation, the Join.Me will automatically open and connect to the Join.Me server.  This handshake with the server will provide you a unique 9-digit code from which you can copy and send it to all the participants you want to join in the web conference.  And there's also an option, if you and your participants have a complete set of head phones and microphones then they can also dial to let them hear you speak as you host the web conference – you can use Skype for this matter so that it will be very much cheaper and free.
Now, once you've already sent the 9-digit code to all of your participants they can now join the web conference but they have to go to the Join.Me website so that they could input the code and join the conference.  They can also download the application as an option.
I tried this at home with me using my desktop computer as the host and Samsung Galaxy S II as the viewer.
For Android smartphones like my Samsung Galaxy S II, iPhone (any iteration), iPad (any generation), iTouch, there's an application named Join.Me Viewer that can be downloaded from each corresponding app store (Android Market and Apple App Store).  With this application, you can join as a participant to the web conference. Of course you cannot use this if you're planning to host a web conference.  I have some screenshots below showing my connection to my desktop computer.

Once you're done with the introduction, you now click on "Get Started" to start and view your host's desktop and start with the web conferencing. You just need to input the 9-digit code provided to you.
Then basically that's it you can now view your host's desktop computer.
Here are the Join.Me download links for your Android phone and iPhone:
Join.Me Viewer for Android smartphones and tablets – link
Join.Me Viewwer for iPhone and iPad – link
Do you think this will be useful for you? Also, do you know any other FREE web conferencing tool that you can share with us?