"Installous 5 Oudated Version Installous will now terminate" error when opening Hackulous Installous 5 app. This has been noticed over this past weekend that most Hackulous users can no longer download pirated iOS apps from Hackulous Installous 5. Whenever we open the Hackulous Installous 5 app we're getting the message that the version we're using is already "outdated". At first we ignored this error thinking that there's a new version that we need to download. But we only confirmed today that the main reason for the error is not about the version of Installous 5 we're using but rather the Installous 5 from Hackulous repository has shut down. And what's more intriguing about the shutdown was the team's reason where they have posted it on their website. This news actually made most emerging developers happy because one of the most popular sources of pirated yet free iOS apps has gone down. At the same time it caused most Hackulous Installous 5 users sad since they can no longer download free apps from Hackulous.
The following message is what you will see when you go to Hackulous Installous 5 official website:
Hackulous Installous 5 message to all
Goodnight, sweet prince.

We are very sad to announce that Hackulous is shutting down. After many years, our community has become stagnant and our forums are a bit of a ghost town. It has become difficult to keep them online and well-moderated, despite the devotion of our staff. We're incredibly thankful for the support we've had over the years and hope that new, greater communities blossom out of our absence.

With lots of love,
Hackulous Team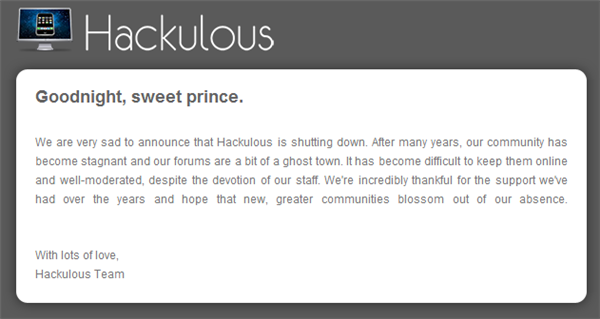 According to Sebastien Page from iDownloadBlog, this Hackulous Installous 5 being out of commission seems to be one step although small victory against the so-called "app piracy" for iOS devices. Indeed, news like this makes most Apple developers happy because one of the most popular repositories, Hackulous Installous 5, has gone down. And for whatever reasons others may have why they keep on patronizing these pirated apps, it is still important that we respect the real creator or developer of the app. Sometimes downloading their apps, like Hackulous Installous 5, is the only consolation they are getting from us – it simply shows our appreciation to what they have created.
Hackulous Installous 5 Alternative Repos
However, it is also true that Hackulous Installous 5 is not the only repository there is in the sea. There are still numerous repositories out there in Cydia that offers free but pirated iOS apps. As Colleen Taylor says, this is not the end of mobile piracy although it is one small step forward for developers whom wanted to earn an honest living from creating fun mobile apps.