While it's true that Samsung Galaxy S II GT-I9100 Android 4.0 Ice Cream Sandwich update has not been deployed yet fully around the globe; We've already seen some reports on how do these end-users enjoyed the big change from the existing and current Android operating system which is Android 2.3.6 Gingerbread (the current version of my Samsung Galaxy S II GT-I9100) into the new promised Android 4.0 Ice Cream Sandwich.  If you ask me, I am also excited myself and I can't wait until I get this update on my region.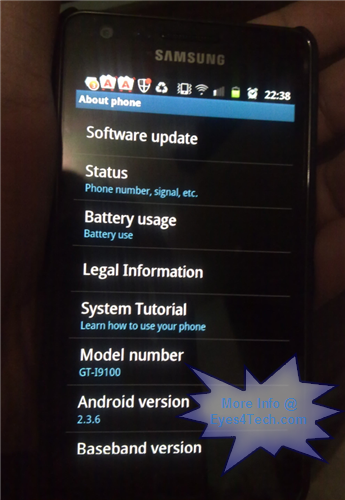 So what is it in Android 4.0 Ice Cream Sandwich that makes every Samsung Galaxy S II GT-I9100 so excited and longing to have this update?
[note]
Although the source code for Samsung Galaxy S II GT-I9100  Android 4.0 Ice Cream Sandwich international update has been revealed by Samsung from their official source code page, I am not recommending it for you to download and install. I urge you to wait for your local update because there are some included features there that MIGHT not be compatible in your country or with your existing network – patience is a virtue.
[/note]
There are so many features of Android 4.0 Ice Cream Sandwich that you will surely like (well, I do). Like the SD card encryption where you can protect your data by putting a password every time you load your SD card. There's also the most awaited Face Unlock feature where you can unlock your smartphone by just registering your face from the front camera. The apps menu has been revamped as well if you compare it to the previous iteration of Android OS.  You can now enjoy the larger tiles or widgets of each menu icons from the apps menu as compared to Gingerbread's set of grid icons.  You can also swipe off those widgets that you don't want to see on your scroll-able menu.  With ICS update on your Samsung Galaxy S II GT-I9100, you can also monitor your data usage and see in a graph your bandwidth consumption when whenever you turn your data on.  Furthermore you can set a limit on your data usage by specifying it and once you reach your assigned limit, your smartphone will notify you.  This will protect you at least from getting billed higher than you expected because of too much data usage.  Data storage UI has also been revamped and replaced with a more user-friendly graphical UI to see how much space you are already consuming and how many are still left. There's also a new sliders where you can easily turn on or off your connectivity settings like your Wi-Fi and Bluetooth. What about the lockscreen? It's been replaced as well in Ice Cream Sandwich update – a new animated lockscreen user-interface. Also, with Gingerbread and you plan to power off your smartphone you only have the option to shut it down or straightly Power Off it. But with Ice Cream Sandwich, there's an added Restart from the menu. Loving Google Chrome web browser? With ICS update, you can surely use this now and surf into the Internet with your favorite browser.  It's quite a big load isn't it? And these are the reasons why I long for the Ice Cream Sandwich update for my Samsung Galaxy S II GT-I9100. I just hope I can get it the soonest and tweak my phone.
Here's a comparison made by Natasha Lomas from CNET.CO.UK – a comparison of the look and feel between the Samsung Galaxy S II GT-I9100 Gingerbread versus the Ice Cream Sandwich Android OS update.
If you want to check out the video comparing the Gingerbread against the new Ice Cream Sandwich update for Samsung Galaxy S II GT-I9100, you can go to this link and be redirected to CNET.UK.