[note]
UPDATES 22-MAR-2012 04:50AM EDT : @AngryBirds officially announced the download links of Angry Birds Space. The game release is currently available for iPad, iPhone, PC Desktop, Mac and Android. Check the download links below. ENJOY!
[/note]
Angry Birds Space for iOS, Android, PC, Mac will be available for download and will be released in a few hours from now. The release was also confirmed by @AngryBirds on Twitter after answering questions from their followers who were asking for a specific time when will be the Angry Birds Space released on March 22nd. @AngryBirds can only confirm that the application will be released on the promised date but with no specific time.  I am sure that this is going to be a hit game once again especially with those end-users with larger screen devices like iPad and Android tablets and maybe for those who have smartphones with at least 4 inches screen display.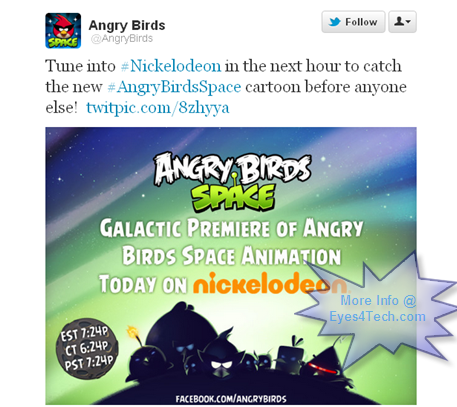 So if you up into the new set of challenges that Rovio has prepared for us with this Angry Birds Space then rest well because after you have downloaded and installed this addictive game it was said that you have to know your math and physics very well because you'll be dealing with the power of gravity and trajectory.
I myself is patiently waiting for this addictive game to be released and if you are on Twitter you can follow the #AngryBirdsSpace thread to be udpated.
Once I got this game, I will update this post and share to you my personal review of the game. While you wait check this video and see why are these birds became so Angry and went to the space.
Download Links of Angry Birds Space: