It has been nearly two weeks since Facebook Timeline was officially announced and at that same week I posted how you can activate or enable Facebook Timeline on your own profile.  However, for those who followed my instruction you should be aware that ONLY us who have activated the Facebook Timeline beta application can only view the changes (and your friend would be able to view it as well if they activated their Timeline as well).
And for the last two weeks, I've seen some cool Facebook Timeline profiles making the most out of what we call "Facebook Cover Photo". The current Facebook profile setup, where you can only place one profile picture or avatar on the top-left part of your Facebook profile with a maximum width of 180 pixels.  Now, with Facebook Timeline you still have that avatar or profile picture (resized to 134 x 134 pixels) and not only that you can now place a larger banner photo with a dimensions of 851 x 315 pixels – this is called the Facebook Timeline Cover photo. Here's a set of screenshots of the current profile page compared with Timeline:
Facebook Current Profile
My Facebook Timeline Profile with Cover photo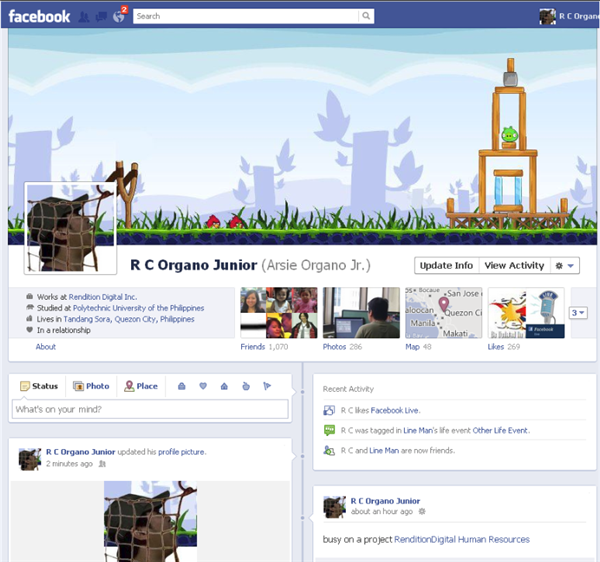 So, here's a simple step on how you can create your own custom Facebook Timeline Cover photo.
Requirements:
Activate your Timeline first –

click here for the steps

;
Adequate Skills in using Adobe Photoshop (any CS version will do);
And the most important ingredient of all – Creativity.
 How To:
I really cannot go into the details but what I can give you is an idea on how you can do it for yourself.  Anyway, for those who can't get this done on your own, I will try to create more and more designs and post it here on my blog site for you to download and all you have to do is upload it on your Facebook Timeline.
Before you start with creating your own Facebook Cover photo, think of a perfect theme you want to put in your Timeline profile.  For example in my case, I picked Rovio's popular game – Angry Birds.  The cover photo or the larger picture/banner will serve as the Angry Birds' battleground while my profile picture will serve the head replacing the exploding Angry Birds ready to be slung anytime.
[note]You should consider your profile photo when doing your design, around your profile photo is surrounded by a 6-pixel white background separating it from the rest. [/note]
Use the Timeline Profile Main Template as your main guide to check whether your design fits the sizes I've mentioned above.  While the the Cover Photo, put the larger picture there (851 x 315 pixels) and use profile photo template to re-size your picture.
Once you've picked your own design for your cover photo and profile picture, just upload it on Facebook and basically that's it.
If you still don't get it, here are some third-party websites that offers custom Facebook Timeline covers.
The following websites have been spotted and their main purpose is to aid you to create your own custom Facebook Timeline cover.
coverize.me
FaceItPages.com
[warning]I haven't tried any of the third-party services above, you can try it on your own risk.[/warning]
Again, I will continue to create new designs and post it here on my blog for you to download if you're too lazy to create one for yourself. 🙂
Enjoy!
Here's some pre-made Facebook Timeline Cover images I created, feel free to download (to be updated).
– Wanted To Eat More
– Inverted Yahoo!
– The Notebook – Starring You