ACER Iconia Tab A500 – Grab It Now!
An Android Honeycomb built is now in the Philippines -first ever – meet ACER Iconia Tab A500. The price ranges at around PhP 21,999 (16 GB version) and PhP 23,350 (32 GB version), available in most of local retailers around the metro. A little cheaper compared to iPad 2 with WiFi selling at PhP 23,990 (16 GB version) from Apple Store.
It was just yesterday when I posted an article, ACER Iconia buttonless Notebook and Tablet, featuring the ACER Iconia Touchbook and the new ACER Iconia Tablet W500/W501. I am not into tablets really, but just looking into the specifications compared to other Android tablets that there is locally and if I am to choose between the bandwagon I'd say ACER Iconia Tab A500 is worth the price.

Let's look at the specifications of an ACER Iconia Tab A500 (16 GB version) below:
Well, not bad at all right?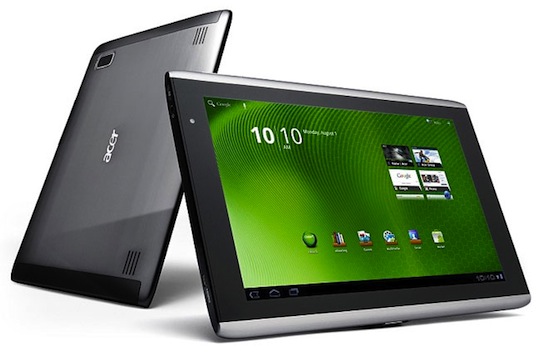 ACER Iconia Tab A500 – There's More!
The Acer Iconia Tab A500 has a 10.1-inch 1280 × 800 pixel multi-touch capacitive display capable of display 262K colors. Its sensors includes an accelerometer, gyroscope and proximity. And it's powered by a dual-core 1GHz NVIDIA Tegra 2 processor and has 1GB of RAM.
It's a WiFi only version, I am not really sure if there will be a 3G version, but it's equipped with a GPS according to the specifications above. Well, this will be a great tool for navigation purposes, that is if you get lost in the metro.
The Acer Iconia Tab A500 also comes with bluetooth, a microSD slot (up to 32GB is supported). For multimedia, it has a 5-megapixel autofocus primary camera with LED flash and a front facing camera that comes in handy for making those wifi enabled Skype video calls. It has an HDMI port for connecting it to a larger display — great for those large screen LED Television sets.
You can also check the full specification from GSM Arena about Acer Iconia Tab A500.