MANILA Philippines (GMT+8) – Don't take me wrong about posting this Wi-Tribe speed test review if in the end of this article I'd become too obvious and too biased. I am only writing this article to share with everybody my own Internet connection review based on my location and user-experience. One of these days I will post a short troubleshooting guide on how to fix a slow Internet connection problem with Wi-Tribe 4G – mostly for post-paid subscribers only – a set of troubleshooting guide straight from Wi-Tribe support team. For now, this article will solely focus on testing the speed of Wi-Tribe Plan 998 which promises a speed of Internet connection up to 2Mbps for 5 days.  This test I made started on Monday, May 07, 2012. And from this daily tests, you will see that the tables and this whole article will be updated until the end of this work-week (Mon-Fri) to give us all at least a clear view of how fast really is the Wi-Tribe Plan 998 2Mbps Internet connection.
Update: I thought I will get better connection when we relocated last April 2013 to Quezon City. However to my dismay the signal is even more worse. I only have one blue light signifying that the signal is way too low. My neighbor on the same compound is also experiencing the same issue to the point that he moved his Wi-Tribe modem outside of his window – and only achieved 3 bars. I decided to surrender and finally gave up my subscription. Right now, I am happy back with BayanTel DSL.
[note]
I have now posted some troubleshooting tips on how you can check your and fix your slow Internet connection using Wi-Tribe 4G – How To Troubleshoot Wi-Tribe Philippines Slow Connection.
[/note]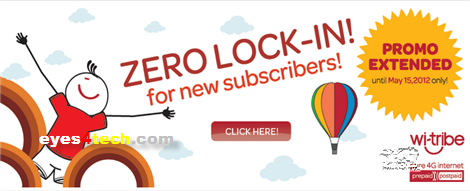 The test that I will be doing will be done on a daily basis – on off-peak as early as 05:30AM – 06:00AM and another during peak hours starting from 8:00PM – 11:00PM.  I will lay it all out on a spreadsheet below. But before that, here are the specs of my desktop PC and my location.
Operating System: Windows 7
CPU: Intel Pentuim (R) Dual Core CPU E5400 @2.70GHz 32-bit OS
Memory Capacity: 2GB
LAN Card: Atheros Internal LAN card AR8121/AR8113/AR8114 PCI-E Ethernet Controller
Browsers: Google Chrome, Mozilla Firefox, Internet Explorer
Location: Tayuman Sta. Cruz Manila
Subscribed to Plan 998 2Mbps
Modem provided: Motorola 2.5GHz WiMAX 4G Modem
According to the Technical Support when I phoned then while troubleshooting my connection last week, the closest switch that's available from my area is somewhere at Rizal Avenue which is a few blocks from my location.
Initially, the decision to acquire Wi-Tribe 4G connection services was never really my first choice; apparently it is the only choice I have aside from Destiny cable Internet (exclusive to where I am living as of the moment). The place where I am staying right now doesn't allow any cables lying around their condo units so I opted to use and try wireless Internet.  I have been a DSL (wired) post paid subscriber for many years and I have already tried PLDT and Bayantel. So far I am somehow more satisfied with the connection I had before as compared to what I have now with Wi-Tribe – so far.
My Plan 998 subscription started on May 01, 2012 when I finally decided to give Wi-Tribe a shot. I asked them to conduct a demo connection on my place for me to check how stable and fast is the Internet connection. Prior to my request, I have already tried their pre-paid Wi-Tribe USB dongle stick when I was still living at Quezon City, unfortunately, I couldn't get at least 1Mbps even during their off-peak hours (I used the 2Mbps pre-paid load) – a total waste of money. Also, I am not that really confident and I don't see that wireless connection is reliable here in the Philippines because of the messy infrastructure we have here. Moreover, I don't think that a thorough visibility study was made by the aforementioned company.  I maybe wrong, but I have my own proof if in these 5 days testing Wi-Tribe fails.
[warning]
If you have any intentions of pursuing on availing Wi-Tribe's wireless services (prepaid/post-paid), then I urge and recommend you to ask their agent to give you a demo test first on your place – especially for those tech-consumers who will avail one of their post-paid plans.  You might end up regretting it. And by the way, you only have until May 15 before their "Zero Lock-In" promo ends. This only means that you can terminate your post-paid subscription anytime – sounds fishy to me.
Wi-Tribe allows tech-consumers to buy their post-paid modem/USB straight from their shops/retailers without physical testing – which can put you on the edge because you really don't know if the Internet signal will be that sufficient enough to provide you a fast and reliable connection.
[/warning]
I have two tables below, one done for the morning testing which is "supposedly" the off-peak hours which means that there are less users connected to the Internet; And another in the evening where it is expected to be the peak hours and lots of Internet users are hooked.
[note]
Note to the Readers:
The tests I made below, I ensured that my desktop computer was freshly restarted and there are no application(s) opened that might connect to the Internet. It's all about my computer hooked with Wi-Tribe Internet connection.
[/note]
Wi-Tribe 5-day Internet Speed Benchmarking
(Morning)
Wi-Tribe 5-day Internet Speed Benchmarking
(Evening)
I will be updating this until I reached the 5th day of testing. By the end of the testing, you decide if you will still want to give Wi-Tribe a shot. As for me, if Wi-Tribe Philippines won't do something about this Internet slow connectivity then I will be forced to move into another Internet provider and this time wired DSL connection.
My Own Verdict
Do I really have to say it when the tables above already shows it? In my 5 days user-experience using Wi-Tribe connection, the overall connectivity is "SLOW".  I was actually phoned by someone from Wi-Tribe trying to isolate the Internet speed connection problem, apparently, I was in the office. He was offering me some assistance by sending a technical person to troubleshoot what's causing this slowness. I won't give anymore the details of the whole discussion we had but I told him that I need to finish first this data collection before I decide when I could invite them in our house (let's say it is because I am at work during weekdays and out of town on weekends).  They even confirmed our discussion through Twitter.
Here are some of the questions I asked them (since I called their support on May 04 and from the one who phoned me on May 10) from which their answer simply implies that they believe that there's nothing wrong with their system.
Why was your demo connection fast, reliable and stable but as soon as my subscription plan was activated – it dropped as if I am using a dial-up connection? – They claim that it shouldn't be the case because they claim that their modem is connected also where I am connected now. I still didn't know that time that it can be checked by looking into the modem's BS ID.
Why is it I am only getting an acceptable connection speed during late night until to the brick of dawn and everything else is so sluggish? – I really didn't get a clear and straight answer from them. The support was telling me that all subscribers are all connected into what they call "shared Internet". So, does this mean that pre-paid and post paid subscribers are hooked into one same antenna within our vicinity? The support was also telling about that it is possible that one of the users is heavily streaming or downloading over the Internet. This is really unacceptable, first they should have monitored this. Another, if this is the case then I think I should be using a lower plan and hooked into the Internet early in the morning and get as much bandwidth – but of course I don't want others to experience this as well.
Why is your Internet connection so slow? – The answer was simply a question back to me – How slow is your Internet connection and where are you testing it, my reply is from speedtest.net one test for domestic and another International – U.S.. I was answered by their support with another question asking me why am I testing it against International server just to check. According to her, I should be testing it on local servers only – this is another sign of their support's lack of knowledge on how Internet works. Any URL you type in the address bar is equivalent into an IP address that goes out int the Internet cloud (this part is out of PH) and determines where is your is that DNS belongs to.  Here's an example – http://www.pep.ph – do a simple tracert from your computer and here's mine.
As you can see, before it reaches the website from which you think is a local website, it still went out to US before it landed back to the website.
I will give Wi-Tribe a chance by inviting their technical personnel to do their own thing and I hope they could fix it.
Here's another funny thing. We are all aware of this reputable website where we can test the speed of our Internet/DSL connection with graphical representation through Speedtest.net.  This is the tool I am using to test the speed of my Internet connection. Wi-Tribe have the same speed test tool on their website through this link. Look at the difference between the two results and be the judge how Wi-Tribe is showing us their Internet speed test data.