Moving to a new place is always an arduous task as there is so much to take care of. The new place might have better opportunities and more convenience for you but with it comes new challenges. It takes a while to fit in the new environment and fulfill all your basic commodities.
A sound internet connection is also one of them. It is only with a smooth internet connection that you can perform your personal and professional routines effectively.
It is estimated that around 99% of the residents in New York have access to internet speeds up to 250 Mbps. So if you are concerned about finding the best provider around you, no need to worry anymore. Because we have the solution right here for you. This online tool will help you search and compare different internet service providers around your area. You just need to provide your zip code and press the search button then you will be provided with a list of internet service providers around your area.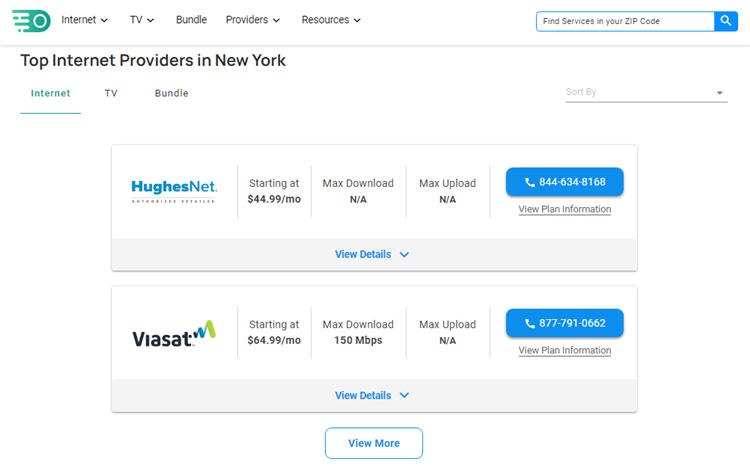 Through careful analysis, we have brought forward to you the top seven internet providers NYC who have stood out in terms of high-quality service, reliability, and widespread availability. We have jotted down all the details that you might need to help you find out the most suitable provider for you. Here we go!
Spectrum
Spectrum has been making highlighted as being one of the most popular internet providers across New York because of its outstanding reviews, no contract, and no data cap policy. It also offers numerous Wi-Fi spots all over the city. Offering speeds as high as 100 Mbps at a reasonable cost. Their high-quality equipment and impressive technology ensure that customers always get to experience the finest services. Providing impressive cable internet services, Spectrum also offers many captivating promotional offers to facilitate the new users to the fullest.
Verizon
Verizon is well-reputed for offering the fastest internet across New York City. However, it does require a minimum one-year contract if you are interested in availing of their services. Offering speeds up to 100 Mbps at a very reasonable cost. Verizon also offers a package of 940 Mbps at a cost-effective price of $79.99 per month. Utilizing fiber optic technology, Verizon is capable of offering blazing fast speeds.
Xfinity
Another top-quality internet service provider is Xfinity which is popular for its attractive plans, high-speed internet, and a wide range of services. They offer outstanding services at a very convenient price. If you are looking for an exciting plan at a cheaper cost, Xfinity might serve the purpose.
HughesNet 
If you live in a remote area and looking for a good internet connection but do not have fiber optic or cable internet facilities around you, you do not need to worry at all. Satellite internet is usually provided in your area and HughesNet tops the chart when it comes to satellite internet providers. It will not be a stretch to say that HughesNet is the best satellite service provider and is readily available in remote areas. Apart from reliable and impressive speed internet services, it is well known for its competitive pricing. HughesNet offers a wide range of packages usually starting from 10 GB to as much as 50 GB at much reasonable pricing.
Optimum
Optimum also offers great coverage across New York which makes it rank among one of the top providers. If you want to experience a faster connection at speeds ranging from 200 Mbps to 300 Mbps at a cost slightly better than the rest of the providers around you, then you must subscribe to Optimum.
RCN
RCN offers unlimited internet services and enjoys good reviews because of the outstanding internet services they offer. However, it might not be available everywhere across New York City. Therefore, you must ensure if it is available in your vicinity. The speeds it offers range from 50 Mbps to 1 Gbps at varying prices. The basic package ranges costs as low as nearly $35 per month.
Viasat
Viasat is also an internet service provider that provides extraordinary satellite internet services. It covers areas where other providers might not offer internet services. You can choose among the wide range of packages depending upon your budget and requirements. Its packages range from 35 GB to as much as 150 GB. The only disadvantage of satellite internet services might be bad weather. Weather conditions might be an obstacle to smooth internet connectivity and cause a disturbance. However, you can count on Viasat because of the high-quality customer services it offers. It makes sure that you experience a seamless internet connection.
Concluding Remarks
Finding the best internet provider near you will no longer be a problem at all. All you need to do is to check the availability of the aforementioned providers in your vicinity. You can compare their plans and offers to pick the most suitable one for you. Once subscribed to the most competitive provider, you can sit back, relax and enjoy the perks of a perfect internet connection.