Samsung in the UK now offers a new promotion to all Samsung and Android lovers by giving out free Galaxy Tab 2 for any tech-consumers who would upgrade their old handsets to either Samsung Galaxy S III or Galaxy Note. So if you have an old iPhone 4, iPhone 4S, and/or Samsung Galaxy S II and you wanted to switch to the new Galaxy S III or Galaxy Note then this is your chance.  You just need to ensure that your old smartphone is still in good condition and still functional. There are two flavors of Galaxy Tab 2 that will be given out – Galaxy Tab 2 7″ WiFi 8Gb or Galaxy Tab 2 10.1″ wifi 16Gb.   The list of handsets or mobile phones are still limited as of the moment to the aforementioned devices above but according to Samsung they will be adding more in the coming days. Samsung UK advises tech-consumers to stay-tune for any updates.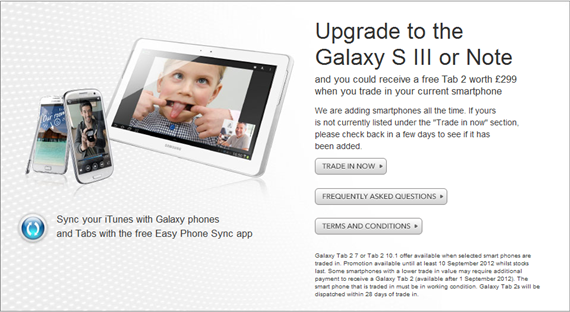 The promotion looks like a great deal for many of us; and getting something for FREE always attract most people who are addicted to gadgets.  But this is not what most tech analysts are seeing. They feel that it will be much wiser to sell your old device and get your own preferred tablet.  You can sell it either on Craigslist, eBay, or any other e-retailer there that accepts old smartphones. From doing this you can even make your own decision on selecting the most economical and budget-typed tablet that you actually want.
However, if you still want to dig this free Galaxy tab by trading in your old iPhone 4, iPhone 4S, or Samsung Galaxy S II for a new Galaxy S III or Note then there's no one stopping you. It's all yours for the taking.  According to Samsung UK, the promo will start at least on the 10th of September whilst stocks last.  And if you want this freebie yet your smartphone is not included in the list I mentioned or may have a lower trading value then you will be asked to pay some additional moolah.
For more information about this promotion and to know more about the terms and conditions, you can visit Samsung UK.