Samsung Galaxy S III (I9300) is now here in the Philippines and is now ready for pre-orders? These are the most common questions we asked ourselves when we spotted this advertisement from Kimstore's official Facebook fan page (as seen in the image below).  The known fact about Samsung Galaxy S III is that no one had really seen it yet nor the specifications of this next big thing from Samsung is still one big mystery.  However, after Kimstore posted Samsung Galaxy S III on her Facebook album, the news spread like fire and the owner is now being asked of so many questions.  Kimstore, one of the known and popular online gadgets e-retailer here in the Philippines is now facing credibility issues after the announcement she made with that post.  I guess it can't be helped since even Samsung, the mobile technology company who should be responsible for unveiling their next big thing Samsung Galaxy S III had their lips sealed until the right time comes.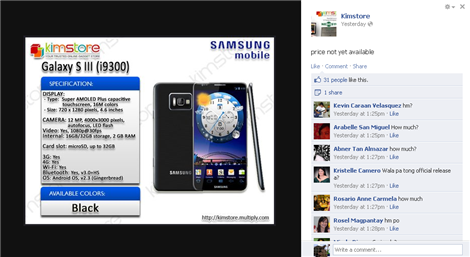 As I've mentioned above and even from my other previous posts about Samsung Galaxy S III, Samsung haven't really divulged to anyone when will they unveil the next generation and successor of Samsung Galaxy S II.  And even if you search this Android phone over the Internet you will only see rumors about the look-and-feel, specifications and even the price. For these reasons and many others, Kimstore is now being bombard with questions about the validity of this announcement and even the specifications she posted on that Samsung Galaxy S III.
On a positive note, I think this is a good move somehow on Kimstore part – being the first to post this locally will surely put her on the top position once the real Samsung Galaxy S III is readily available here in the Philippines.  She just need to do some tweaking and adjustments like on the real specifications (inside and outside) of Samsung Galaxy S III.  Well, that's just me.
For more details, you can check Kimstore post about this Samsung Galaxy S III.