Yes, there will be a Samsung Galaxy S III black and it is coming soon! I just got a tip from a reputable online gadget store (e-retailer) namely Chris Ward of Clove Technology that they will soon launch the SIM-Free Samsung Galaxy S III black colored version.  If you haven't reading and following my posts, earlier this week I shared another online smartphone shop in the UK called MobileFun.co.uk where they were also offering the same rumored black color of Samsung Galaxy S III.  If Samsung will does release the black version of their new popular Galaxy S III Android smartphone then soon there will be three of them available on most stores globally – pebble blue, marble white, and the unnamed black.  Also, as I've said before it would really attract me more if there will be a black version for me to select and buy.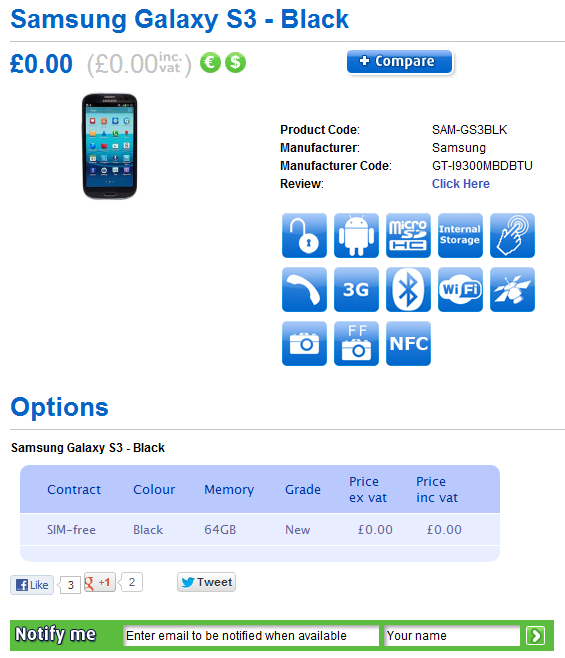 As you can see from the image above (from Clove Technology), the soon to come out Samsung Galaxy S III Black isn't priced yet.  However, they already confirmed that they will be launching it early next month – October.  The Samsung Galaxy S III Black will be offered with 64GB internal storage.
Moreover, Chris says:
At the moment we are still waiting for pricing to be confirmed so we have not made it available for pre-order, but will update as soon as possible. In the meantime, we have opened up email alerts on the S3 black product page (linked below) so that visitors can register their interest in the handset.
He was referring to the Notify me fields just below the Options table.  For more information and updates of the Samsung Galaxy S III release from Clove if you somehow decide to buy one, just go to Clove Technology.