What should I do to prolong the battery life of my iPhone 4 or iPhone 4S? Have you ever considered attaching an external portable battery to make your mobile phone last throughout the day? It's obvious that maintaining iPhone 4 or iPhone 4S' battery is quite hard especially for those who we categorized as heavy-users. The battery problem of iPhone 4S was first seen and experienced by some of the early users of the aforementioned iPhone last October and Apple promised that they will do some investigation about it. But even the fix was applied to address some internal apps issues, it can't be denied that new smartphones like iPhone is heavy utilized. A good example is those tech-consumers who use their phones for their business or work. The email should be turned-on always, incoming and outgoing calls here and there, 3G/4G needs to be enabled, and then there's the WiFi which you needs to be activated. How about those other applications running in the background and not to mention those apps you have downloaded which always check if there's an update or those popping notifications coming from those apps. These are just some of the common contributors that make your iPhone 4 or iPhone 4S battery life drains so fast – and I haven't even cited the power needed by your phone's processor. Of course, some of these can be controlled by deactivating them and enable them back when needed. However, some of us are lazy to do that, don't know how to go about it or they never wanted to deactivate them at all. If that's the case then I can assure you and I guess you have already noticed that your battery can't even last a whole day to provide you all your needs – mobile access.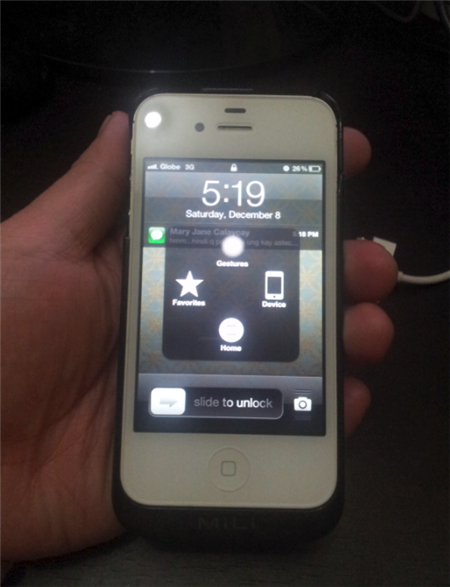 A problem like this can be resolve easily. As I've said, we can control some of these, but if you don't want to opt them out from processing behind then the only thing I could recommend is for you to use an external battery. I had the same problem before with my iPhone 4S so in order for me to keep my phone alive the whole day to aid me with my busy day job, I took the liberty on attaching an external battery case from MiLi and attached it on my iPhone 4S to prolong my battery life. It works as an extended portable battery pack attached to my iPhone 4S and it doubles the battery life of my mobile phone. Of course you won't see "200%" on your battery icon once you attach the MiLi battery power pack. What happens is that if both of your iPhone 4S (also works on iPhone 4) and MiLi battery pack is fully charged and you start using your iPhone 4S, once your phone starts to really drain all the energy from its own battery then the MiLi external battery case external pack will serve as your backup recharging dock. The MiLi external battery case will gradually provide the power straight into your iPhone 4S making it last longer – twice as your battery life.
The iPhone 4S portable external battery case I am using is MiLi Power Spring 4/4S iPhone 4 Battery Case. It is not just an external battery pack but also acts as a protective case against scratches. It works either on iPhone 4 or iPhone 4S. Don't worry if you are using an iPhone 5, MiLi is also selling an external battery pack for the new flagship iPhone of Apple.
Style for MiLi Power Spring 4/4S – 2000mAh Tech Specs
Descriptions
Specifications/Features
Capacity:
2000mAh (Li-Pol)
Input:
5V/0.5A
Output:
5V/0.5A
Charging Time:
4 Hours
Standby Time:
Up to 450 Hours
Talk time:
Up to 7.5 Hours on 3G
Up to 16.7 Hours on 2G
Internet Usage:
Up to 7.5 Hours on 3G
Up to 13.3 Hours on Wi-Fi
Audio Play:
Up to 45 Hours
Video Play:
Up to 15 Hours
Product Dimension
124 x 65 x 18mm
Works with:
iPhone 4
iPhone 4s
LED indicators
It display the charge level instantly, and unlike other iPhone 4 Battery Case solutions for the iPhone there is a manual power button so you can decide if you want to use the power now or if you want to save the power for later when you really need it.
Here are some of the images I took using Mili Power Spring as my external portable battery extender.
You can buy MiLi portable external battery for your iPhone, iPad, iPod, Kindle, and many more from their official online website. Another option is from Amazon –
MiLi Power Spring 4 HI-C23 External Battery Case 1600 mAh Capacity for iPhone 4 (Black/Silver) (Fits AT&T iPhone)
. We bought this for almost PhP 4,000.00, but some mobile store are selling this from PhP 3,500.00 – PhP 4,000.00.
The only drawback is that it adds a little more weight and bulkiness to my iPhone 4S but it's not really noticeable. But if you ask me, I can live with this granted that it always keeps my iPhone 4S alive whenever I need it through the day.