Nokia Lumia 610 was recently announced last month and was reported that it will land first in UK this second quarter of 2012.  But guess what, the Finnish made another version of this mid-range Windows Phone and it's official – meet Nokia Lumia 610 NFC. According to Nokia, Orange(UK) will be the first network carrier who will bring these mid-range Nokia Lumia 610 NFC Windows Phone.  But if you still wanted to give Nokia Lumia 610 a shot then you can buy and get one from Clove Technology for £179.00 (VAT exclusive).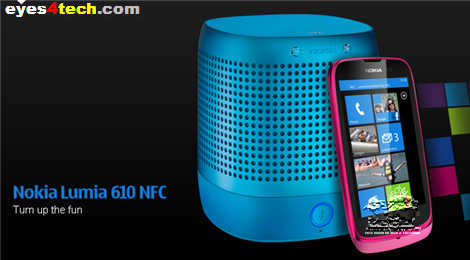 What is NFC?
For those who are still not familiar with the term "NFC" and how it works, well I can only give you the simplest definition of it. NFC is the abbreviation of the term "Near Field Communication" which makes it possible for two devices to talk with each other over a radio frequency or communication by simply tapping or touching them together or even holding them within close proximity. It is a short-range wireless connectivity technology built upon RFID or also known as Radio Frequency Identification.  NFC is not actually a new technology and has been there for quite sometime.
Nokia Lumia 610 NFC
Nokia Lumia 610 NFC version will enable you to transfer photos or contact information within range with another NFC-based phone. But that's only the basic features of this Nokia Lumia 610 NFC. Another cool fact about this Windows phone released by Nokia is that they have been certified for wireless payments – Mastercard (Paypass solution) and VISA payWave (a mobile application for payments through POS). These payments will be done under secured gateways.
Specifications of Nokia Lumia NFC
This Windows Phone has a dimension of 119 x 62 x 12 mm and weighs at about 131.5 grams. It sports an 8GB internal memory with 256MB RAM. Feeling short with the memory features? Not to worry because this phone includes Skydrive storage. You can view your photos, videos and other stuffs with its 3.7 inches capacitive touch display screen that has a resolution of 800 x 480 pixels.  The operating system is Windows Phone 7.5 Mango with IE 9 for its browser. And to capture each special moments, you can enjoy the Nokia Lumia 610 NFC 5MP auto focus camera with large aperture/low of F2.2. The video resolution is 1280 x 720 pixels with a video frame rate of 30 frames per second.
Here's a short video clip from Nokia introducing the Nokia Lumia 610 NFC.