For some, this is not new and in fact there a lot of articles all over the Internet that covers this simple "How To" tip. However with the continuous growth of Facebook users this social networking website also keeps on changing on how you could identify your Facebook ID/UID or profile ID. Originally when Mark Zuckerberg created Facebook, each new user was provided with his own ID number serving as a constant variable simply stating that it belongs to a certain unique person or entity. Mark's profile ID was originally "4" because the first 3 was the test accounts used by Mark; you can check here who are the first 20 Facebook users. Anyway going back to the topic, actually the main reason why I a writing this is in preparation for the next project that I will be posting – something like posting or writing comment unto your friend's Facebook wall. There will come I time that this technique will change again since as I've said the mentioned social-networking website is growing. And because of that I will also provide how you can test if you got the real ID.
How To Get Or Identify Your Facebook UID
(I will be using my profile as an example)
1. Go to the Facebook profile from which you want to get the UID;
2. Point your mouse over to the profile picture/image;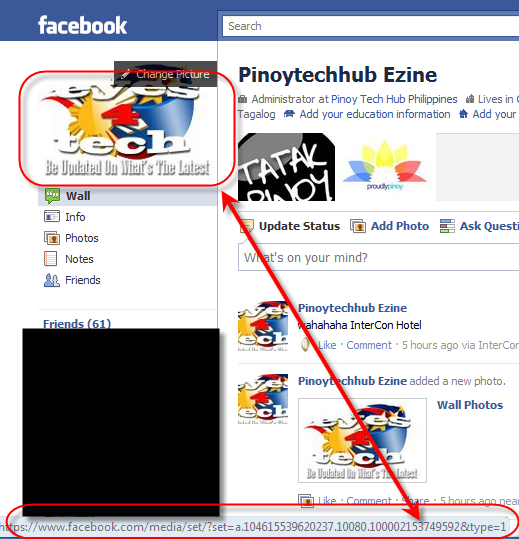 3. Copy the URL link of the profile picture (it's easy with Chrome, Firefox and Rockmelt. For IE, click the picture and copy the URL from the address bar);
4. Paste the URL/link on a notepad, you'll obtain something like the one below:
https://www.facebook.com/media/set/?set=a.104615539620237.10080.100002153749592&type=1
5. The set of numbers I've highlighted is the usual position of your Facebook UID, mine is 100002153749592.
[note]To test it, type this line on your address bar and at the end add the UID you obtained – https://www.facebook.com/profile.php?id= as an example, here's how I would check my profile: https://www.facebook.com/profile.php?id=100002153749592[/note]
You can use the link above to check if you got the correct UID in the future just in case Facebook changed again the position of the UID from your profile.