Here's our (almost) complete iPega Bluetooth remote shutter or should I say wireless shutter controller review which I know that most selfie enthusiasts will love more when taking pictures. We had our fair share to test the iPega bluetooth remote shutter on almost different smartphones today. And in this article we will provide you a little bit of information before you selfie enthusiasts even try to invest or buy your own remote shutter to take pictures from your iOS phones like iPhone 4S, iPhone 5s with iOS 7 or Android smartphones like Samsung Galaxy S2, LG phones. From unboxing iPega Bluetooth Remote Shutter, how to operate the remote shutter, and what are the supported smartphones of iPega Bluetooth Remote Shutter.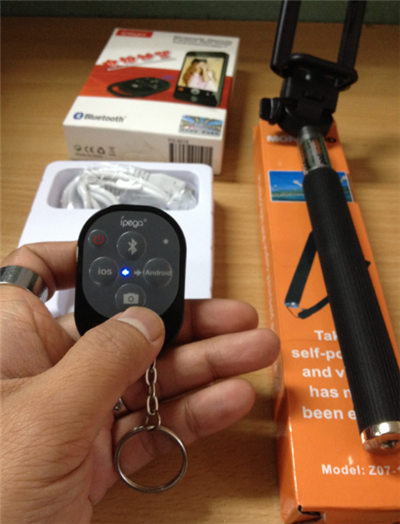 I bought the whole selfie set from my colleague, Sandro Banquiles, which includes the monopod with smartphone clip, iPega Bluetooth Remote Shutter, and clip lens (macro, fisheye, and wide lens) for Php 1540.00 or almost $37 USD – not bad. The iPega Bluetooth Remote Shutter alone costs Php 580.00 or $13.28 USD.  Now that I have the complete set, I was more fascinated with the iPega Bluetooth Remote Shutter because my iPhone 4S doesn't have a camera timer. I know you will suggest me to why shouldn't I download other iOS applications from iTunes App store if that is my only problem. For starters, if you haven't noticed it, the stock camera app of iOS maximizes the full feature of it's camera unlike those third-party apps which is either filtered or gives you a chance to edit it – more close to being photoshopped. I like raw pictures – it's my own preference. So let us start with our iPega Bluetooth Remote Shutter review now.
iPega Bluetooth Remote Shutter Specifications
The iPega Bluetooth Remote Shutter comes in four colors – blue, black, white, and pink. I got myself the black version. And inside the box you will 3 important things – the iPega Bluetooth Remote Shutter, Micro USB cable, and of course the manual. One thing that you will like about this handy bluetooth remote shutter is that it was designed to be a keychain – trendy and fashionable. With this, you can bring it anywhere or attach it you your monopod handle – neat!
The iPega Bluetooth Remote Shutter is also called remote control self-timer. Probably this is because you can decide whether when to say cheese before pushing that shutter. And with this handy little device, you don't need to install any applications or additional software just to make it work. You just need to pair it with your smartphone's bluetooth and once paired then you just need to select what version you are using – iOS or Android. That's it! You can now click then and there.
Unlike the old version of iPega Bluetooth Remote Shutter, it uses a disposable battery which makes it impractical and frustrating. The new version, PG-9019, it comes with the Micro USB cable to enable you to charge the built-in lithium battery with a capacity of 130mAh and which can take 60,000 after you have fully charged it.
There are five buttons and three light indicators on each iPega Bluetooth Remote Shutter. They are as follows:
Power button
Bluetooth pairing camera
Pre-configured camera app for iOS
Pre-configured camera for Android
Camera shutter button
And of course those light indicators
This Bluetooth  device can trigger your iPhone camera or Android camera up to a distance of 10 meters radius – well that's pretty far to take a picture of your whole school ground with you on it. 🙂
iPega Bluetooth Remote Shutter Supported iOS and Android devices
iPod Touch, iPad, iPhone 4S, iPhone 5s, or any Apple device with iOS version 5.0 and above
Samsung i9220, i9250, i9300, i9500, i9190, Note 2, Note 3
HTC-G14
Rezound
G22
How iPega Bluetooth Remote Shutter Works
Power on the bluetooth remote shutter and wait until the LED light turns on and flash
Press the Bluetooth pairing button
Then turn on your smartphone's or device's Bluetooth and search for your iPega Bluetooth device. Usually the name of the device is the model number. For example, mine is PG-9019 and that's the one I see from my list of available Bluetooth device which ready for pairing.
Once paired, on your iPega Bluetooth device select the corresponding device version – iOS or Android.
That's it! You are now ready to shoot!
Downsides of iPega Bluetooth Remote Shutter
You cannot please everyone and this device is not an exemption. It works as is and as expected but if you are looking for more then maybe this is not the one you are looking for. So here are some of the downsides of iPega Bluetooth Remote Shutter.
No indicators whether the lithium battery is fully charged.
As mentioned above, not all Android smartphones will be compatible with this remote shutter. If you attempt to use it for smartphone that is not compatible with the device, different outcome will happen once you hit that camera button.
The iPega Bluetooth Remote Shutter is not working with third-party applications like Instagram, Camera 360, and others.
The shutter does not work with self-timer – well who does that really? 🙂
You will need to download the iPEGA Bluetooth controller app to have your wireless shutter controller activated.
Android's only salvation…
There's hope if you still wanted to purchase iPega Bluetooth Remote Shutter even if your phone is not in the list. iPega suggested from its manual to download the software camera.apk from the following links below. This is the Android APK (IPEGA Bluetooth Controller App for Android)
Me and my friend from PetiksMode.com created this video below to share with you how iPega Bluetooth Remote Shutter works on iOS and Android smartphone.
[youtube=https://www.youtube.com/watch?v=73lP6ar-WjM]
There you have it folks! Enjoy!
By the way, if you know someone or if you have tried your smartphone with iPega Bluetooth Remote Shutter and it is not working, please comment below with your mobile model and version so that we can help others.