"I am looking for a Facebook chat history..." – I just overheard this from a friend. I am one of the large Pinoys who owns a Facebook account since as far as I can remember. Facebook Chat – I usually don't use this feature of Facebook but I can't recall that this social networking site can save chat history or even having the capability to save chat messages. Come to think of it, why should Mark Zuckerberg add it when FB as it is right now is like a huge chat room? However, like any other chat applications people would want to review their chat sessions whenever it is possible. So if Mark doesn't want to add this feature, does it mean we can never have it? The answer is NO. The ideas and opinions from other people drive developer to create new things. As if they are trying to challenge themselves to prove that it is possible and thanks to this group of developers from London. FBChat developed an extension (a plugin) application for Google Chrome users named Facebook Chat Archive.
I tried testing this on my PC and I wanted to share with you my experience with Google Chrome Facebook Chat Archive extension from installation and how to use it. Although there's also an "add-on" made for Mozilla Firefox users, I wanted to emphasize in this article just this extension plugin for Google Chrome and maybe I will just make a separate one for Mozilla Firefox. But if you wanted to try for yourself, just download it from Facebook Chat History Manager Add-Ons page of Mozilla Firefox.
Let us proceed now with the installation, actually it's quite easy. I am currently using the latest Google Chrome version 10 but I am sure it's backward compatible – unless it is stated on their site as one of the requirements.
Download and save into your local computer the extension application from either Google Chrome Extensions site or directly to FBChat's website.
Then, proceed with the installation by opening the downloaded file.  Note: Installation will only take less than three minutes.
Once installed, login to Facebook with your account. Afterwards, click the installed extension.
Then the application will eventually ask you to permit this application to connect with your Facebook – just Allow it.
Now, try chatting with your friends.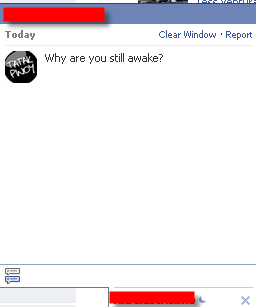 The chat sessions will now be save and to view it just click the Facebook Chat History icon from your Google Chrome's toolbar.
The interface is not that fancy but you can be sure that it does really work. You also have the option to delete chat sessions.
Note: Always ensure that you log off after you're done Facebook-ing because if not, anyone can access your archives just by clicking the Facebook Chat History icon.