Facebook chatbots are a powerful tool for your business. They help it by consulting customers on different questions, can give suggestions, qualify the traffic, remind about purchases, and much more. Stay here, if you want to know more about chatbots' advantages and efficacy.
What are chatbots?
A Facebook chatbot is artificial intelligence and an agent at the same time. It's also a part of the software. It can understand the user's questions, answer them and execute different tasks.
Facebook chatbot connects with clients from Facebook pages. A chatbot will scale your Facebook messenger strategy.
What can a chatbot do?
it can answer frequently asking questions , FAQs, easily;
it can execute many different tasks;
it can recognize messages and voices;
it saves your time on searching unnecessary information;
it helps to find a human worker if you have more specific questions;
it gives you ideas about what to buy, when you're not sure about what products to choose etc.
You can create it by yourself easily, spending just several minutes, for example on such a platform as 13chats.com. There are many features. The settings are simple to understand.
Now you know all the information for your future chatbot. Let's know its advantages!
Benefits of chatbots
1.They make your offers more personalized
Chatbots ask users about their tastes and help in choosing products. They always use the client's feedback. It makes their purchase experience special. Even if we're talking about potentials, chatbots also increase the rate on the website.
2. They collect information
Facebook chatbot gathers data, such as answers or additional information of clients. It could be useful for further work. For example, they're searching for a special product and the chatbot asks specific details to clarify the good and then gives a choice to choose from.
Take a look at the following example, the Facebook chatbot helps the user to find the best format of training by collecting special data.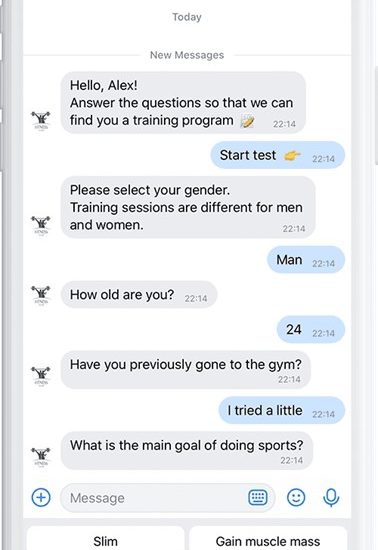 3. They increase the user's engagement
Chatbots can easily answer every frequent question. Moreover, after collecting the data, they offer you a list of products to choose from. They're pretty attentive to all details, it creates clients' loyalty and lets the user's engagement grow. People appreciate the time, that's why a chatbot is a nice alternative for the website helper.
4. They automate routine tasks
One more benefit is that chatbots can do typical routine tasks, for example, pay attention to FAQs, frequently asked questions. They give the opportunity for human workers to focus on more important tasks in their work. They save time for really significant questions.
5. They give more popularity of the brand
Chatbots open more opportunities for regular clients and potentials too. While monitoring the website, users may have information that is interesting for them.
In spite of the website, they may ask questions about all the details and chatbots will give them immediate answers. In reverse, they may tell you about your brand too, just some details, which will attract clients. Being oriented toward the user is the best solution for raising your brand awareness.
Conclusion
The Facebook chatbot is a popular and at the same time, reasonable tool to use. Its functionality and advantages say themselves. You can easily create a free Facebook chatbot for your website, spending just several minutes.
Try new features and be successful! Good luck!