Learn how to upgrade Samsung firmware and don't let that Samsung device you have right now grow old with the out-of-the box Android OS version. As promised I will be showing you a quick instruction on how to upgrade Samsung firmware devices such as Galaxy S II's  and get the latest fix and update for your smartphone with the use of Samsung Kies.  But before everything else, I want to give you a quick background on what is Samsung Kies and the importance of upgrading your smartphone's firmware.  Below is a screenshot of my Samsung Galaxy S II GT-I9100's phone information after updating the firmware.  The latest firmware available for my phone is PDA:KI2/PHONE:KI1/CSC:KH1(XTC). Samsung Kies is Samsung smartphone's application that let's you explore and plug your phone straight into your PC or desktop computer.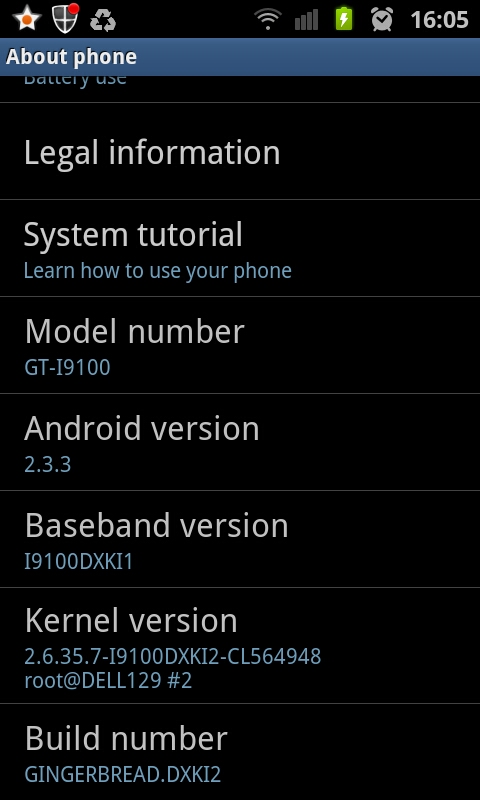 Upgrade Samsung Firmware Devices using Samsung Kies
Although it is optional for you to upgrade your smartphone's firmware if it is already working for you and if you don't want to mess with your phone however, there are advantages and benefits when you do an upgrade. There are still known issues with Samsung Galaxy S II and one of the known issue is the smartphone's heating problem which can be attributed to the applications loaded and running on your Samsung Galaxy S II. I am not saying that this is really bad and discouraging but I believe that this can still be fixed with latest firmware for proper handling of applications and with some other added features. You can download the latest Samsung Kies here, or visit their official website to check the latest version. I installed SAMSUNG Kies for Windows version 2.1.0.11095_121_6 on my desktop computer. Don't worry if you're not a computer savvy because the installation procedure is user-friendly and you just need to follow the procedure.
[warning]Read this first before you proceed. [/warning]
But before you do anything, it will be wise for you to backup first your smartphone's data such as your contacts, messages, photos, videos and other information you saved on your phone. This can also be done with the use of Samsung Kies.
Actually, with Samsung Kies installed once you plug your Samsung Galaxy S II onto your computer with the use of a USB cable, Samsung Kies will check your loaded firmware and if it is not updated yet the application will prompt you that there's an available latest firmware. I have an example screenshot below when I plugged my Samsung smartphone onto my desktop computer.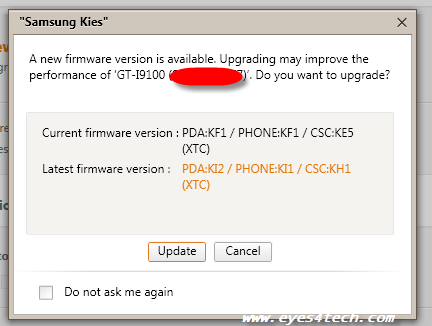 Get Ready To Upgrade Samsung Firmware using Kies
[note] Requirements:
You'll need the following before we get started.
1. USB Cable (v2.0 microUSB), you should have this when you purchased your smartphone;
2. (STABLE and FAST enough) Internet connection;
3. Samsung Kies – download here;
4. A computer;
5. Of course your Samsung Galaxy S II – make sure that it is fully charge.
[/note]
Once everything is prepared then we can now start. Actually, you don't have to worry about the battery charge because Samsung Kies can and will prompt you if your battery charge is sufficient enough for the firmware update process – but it wouldn't hurt you if you charge your phone anyway before the upgrade.
With the screenshot above where it asks if you wanted to upgrade your firmware to the latest available updates, another notification will pop-out giving you some "Caution"-ary steps before jumping to the upgrade and once you're ready just tick the checkbox confirming that you have read and complied with all the requirements. Then below it is the option where you can save your smartphone's information to Samsung Kies server to allow them identify some known firmware updating issues (the issue that you might encounter will be sent to Samsung Kies for them to analyze and possibly fix on their next release.
Now that you're ready, just press the start button below to commence with the upgrade.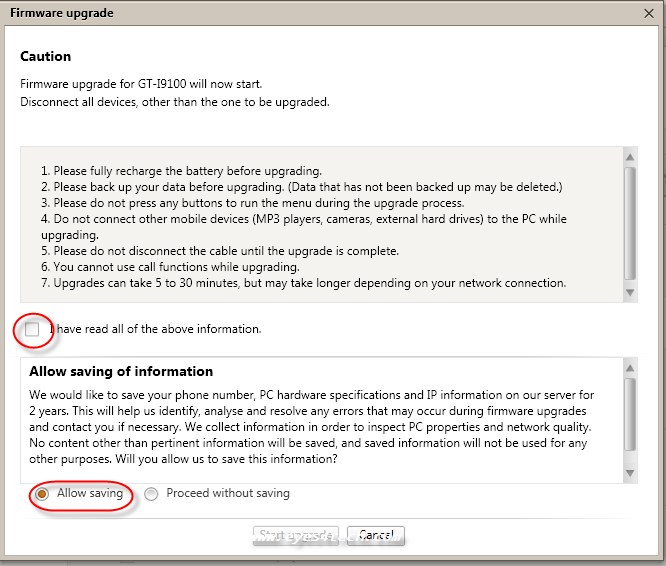 The upgrade process will depend on how fast your computer and most especially your Internet connection. This is because the process will still need to download the latest firmware before it install the application on your Samsung Galaxy S II. It will tell you that it will take at least 30min before it is completed. So you better make sure you have a stable connection and you're not expecting any power interruptions.
Once the firmware upgrade is completed, you'll get the notification window below that your Samsung Galaxy S II has now the latest firmware and basically that's it.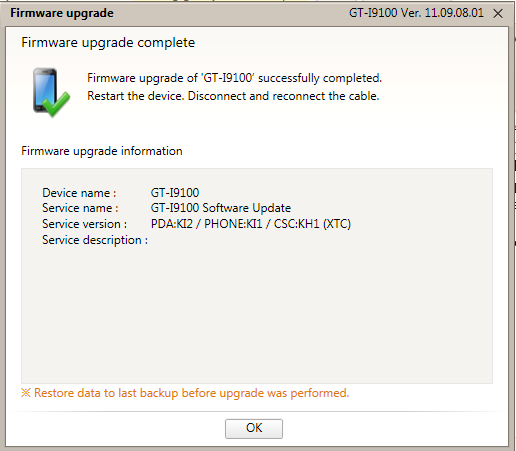 Unfortunately, as far as I know we'll be quite blinded on what's in store or bundled with the latest firmware since Samsung never gives out any release notes about the latest updates. But if you know, I'd appreciate if you can share it with us.