A couple of months ago just before the birth of Apple iPhone 4S, there were iPhone 3G and iPhone 4 end-users looking for ways to unlock their mobile phones – untethered. For those long-time iPhone unlockers there's Jailbreak by iPhone Dev Team, Sn0wbreeze, Pwnage Tool, and many other iPhone unlockers but there's one way to unlock your iPhone and won't require you to install any application and it's the Gevey SIM packs.  When I first heard of this Gevey SIM kits, I saw them available only through Amazon.com
and they're like candies for kids – they're always out-of-stock.  So who wouldn't get this amazing kit which will allow you to unlock your iPhone without even installing any application and won't even void your iPhone's warranty.

However, just this past weekend when we went to Boracay, Aklan I was really amazed when I saw some cell phone shops there selling Gevey SIM pack and below is one of them located just beside the D'Mall (at the back of Boracay Station 2 beach). On a piece of paper which they have posted on the glass window of their shop saying "iPhone 4 Gevey SIM Unlock & Jailbreak". I immediately took a picture of their shop and asked them how much is the Gevey SIM pack, the technician told me that they're out-of-stock but it didn't stopped me to reiterate my question on how much are they selling this Gevey SIM – finally he answered and said that each SIM costs PhP 1,200.00.  Well if you check it in Amazon.com
, you'd get it for as low as $6.98 (plus $4.49shipping) however they only ship it domestically (within US territory).
After that I began asking myself, why haven't I seen, not even one single cell phone shop here in Manila that sells Gevey SIM Packs (maybe they're not aware or they're afraid they'll be caught by Globe Telecom which happens to be the official iPhone 4 carrier here in the Philippines).  I began Googling also just to satisfy my curiosity, and viola!  I saw some guys from Sulit.com selling them online for as low as PhP 1,000.00.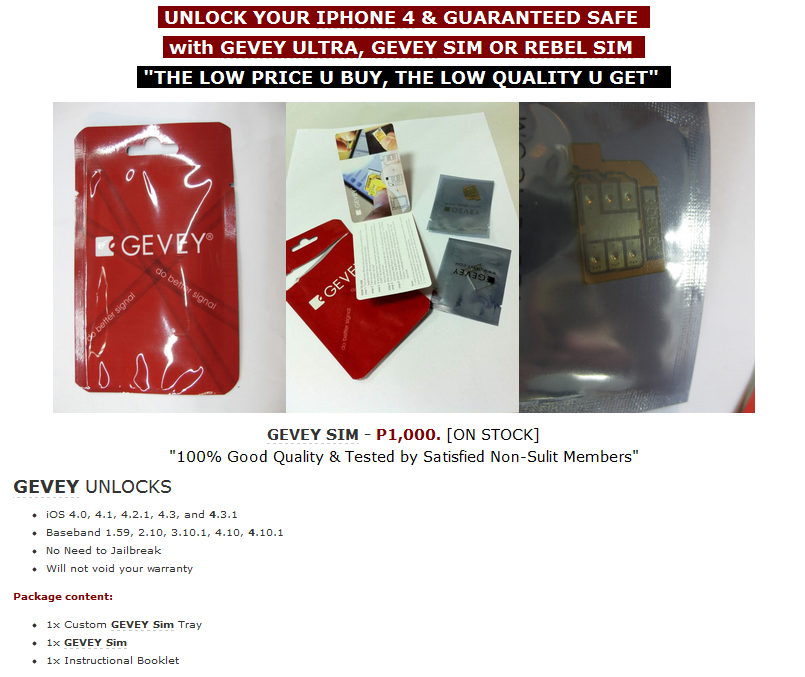 The standard Gevey SIM can unlock your iPhone 4 with iOS 4.0 up to 4.3.1, baseband 1.59 – 4.10.1; while the Gevey Ultra which cost PhP 2,500.00 have a wider scope which is compatible with iOS 4.0 – 4.3.5 and with the same baseband compatibility – more stable Gevey as they say it.
You can also check some more Gevey SIM package and kits from Amazon below.
[note]
All the mentioned prices of GEVEY SIM packages here may change and may not be updated anymore once you check it. They are the prices when I posted them so it's entirely up to the company or person selling it.
[/note]