Facebook Timeline – some users loved it, some just wanted to be updated but there are still some who hated this change so much and wanted to removed it after seeing its effect on their profile when they activated it. Unfortunately, it can't be easily done – sorry it can't be officially done since sooner or later this will become your default profile whether you like it or not. However, this negative sentiment surrounding those who despise Facebook Timeline is now being used and exploited by those little rats in Facebook. How? By asking them to go into their pages (some of them were Facebook pages while some were external websites) and instructing users to click and download the files just to revert their Facebook profile to the old theme. Most of these were what we call clickjacking/"like"jacking websites which will gather more "Likes" into someone's Facebook Fan page – while some of them were destructive and can possibly infect your Facebook account with some malicious malwares.
This morning I saw this post from one of my Facebook friends saying that he just deleted his Facebook Timeline with a link under it ().  I didn't go for it since I am aware that there are so many Facebook scammers around the Facebook society but I did checked out the site and see for myself its legitimacy – refer to the image above. The website looks creepy for me and looks like suspicious so I started to check the site with the use of some online website scanners.
Although most of them showed that there's no report (yet) that this website indeed contains malicious contents it doesn't mean that it is already clean because when I tested the website from Virus Total Online Scanner – it gave me back a report from Websense ThreatSeeker that this is a MALWARE website.  And I dug a little further on some online tools and saw that this website contains some malicious codes and scripts that could be a potential clickjacking website.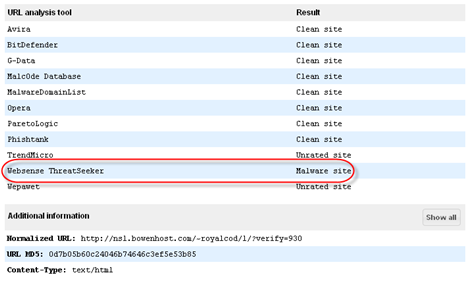 So please, although you don't like the new Facebook Timeline and is being nostalgic because you miss your old Facebook profile – don't ever attempt to go for this kind of malicious applications or websites so that your Facebook account won't be compromised. There's another safe way actually to bring back your old profile but the thing is you will be the only one who will see the change (just for the sake of you being nostalgic about your old profile); and this is by tweaking your browser – check this link.
Please do share the information to your friends not to even try go for services that guarantees to remove your Facebook Timeline for good because it won't happen.