Last week, 04th of April, was the day where most of the Android smartphone and tablet users were waiting for. It is simply because one of the most popular application in iOS (iPhone, iPod Touch and iPad) has been re-created for Android users – Instagram for Android.  Yes, I actually received an email newsletter from Instagram that they have finally loaded the application in Google Play for all of us to download and enjoy.  I've witnessed how this application went viral on iTunes and most of my friends with iOS devices specially those with iPhone 4S were actually enjoying this application and became addictive to it. Click… click… click… upload… upload… upload… As if their whole day won't be complete without capturing a photo for each single moment that took place.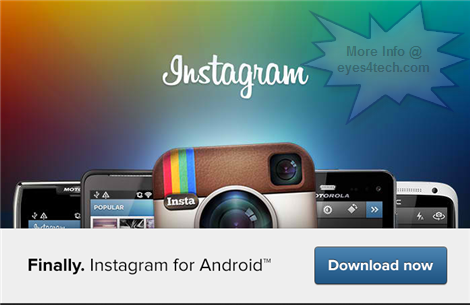 I must admit, my social networking life revolves around Facebook and Twitter but with Instagram for Android, it opens me to a whole new world where sharing is the main objective. But I would like to emphasize to you my dear readers that the main focus of Instagram is photo-sharing like Flickr from Yahoo. Yeah, I know Facebook already have their own theater-like photo feature so why do they have to spend like 1 Billion US dollars just to buy this Instagram application? The only answer I could give you is that with Instagram for Android or iOS you can edit your photos and add more life into it with the application's filtered effects.  And in addition to that, Instagram is a mobile application which means unlike Flickr you can only do so much with a smartphone or slated tablets with a good camera – you cannot edit and upload photos from the Instagram official homepage.
Instagram Comparison Test: Android versus iOS
Me and my good friends from Petiksmode and PartyInTheMetro did a little test to compare Instagram on Android versus an iOS device. And the device we used for comparison were Samsung Galaxy Tab 7.0 Honeycomb (installed with Instagram for Android version 1.0.4) and iPod Touch 4G iOS 5.1 (installed with Instagram for iOS version 2.2.1).
I will not be discussing and will not even attempt to compare the photo quality because all of these will depend on the camera of your device.  The main focus of this comparison is to review the features of Instagram application on Android and on iOS – what's missing and what's not. Of course the base of comparison will be iOS since they're the one who got the application first.
Filtered Effects
We compared both Instagram application on Android and iOS and right now all of the filtered effects on both platforms are the same. Here is the list of the available filtered effects:
Normal
Amaro
Rise
Hudson
Sierra
X-Pro
Lo-Fi
Earlybird (I like this one as it brings a little bit nostalgic polaroid effect on your photo)
Sutro
Toaster
Brannan
Inkwell (If you are into black and white effect)
Walden
Hefe
Valencia
Nashville
1977
Kelvin
Photo Sharing
As is, when you install the Instagram application on your device you will be required to create an account that can be linked with your other social networking account like Facebook and Twitter.  Instagram for iOS devices like iPhone, iPod Touch, and iPad you will have a lot of photo sharing options as compared with Android.  On iOS, the following can be configured to share your photo – Twitter, Facebook, Email, Flickr, Tumblr, Posterous, Foursquare.  While the Instagram for Android, you will only have Twitter, Facebook, Foursquare, and Tumblr.
[note]
The only consolation that I saw from Instagram for Android is the Geotagging. This is a feature of almost new smartphones and tablets wherein the location where you took a photo will be added to the information of the picture – this was made possible by GPS.
[/note]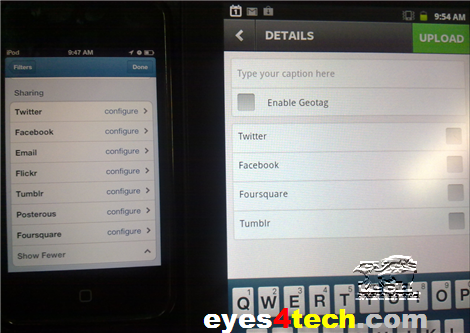 Photo LUX Effect
The Lux option or effect is both present on Instagram for iOS and Android. This is the icon that looks like a sun with rays and inside is a semi-circle. The function of this feature it to over-expose those under-exposed part of the photo.  Here are some examples from Instagram blog site about using Lux.
Instagram Forgot To Include This Feature On Android?
Everything seems to be pretty cool isn't it? But there's one more thing and the coolest feature (for me) that is missing on Instagram for Android – tilt-shift. This is one feature that is available on iOS but was not included in the release for Android.  What the tilt-shift photography does is it gives another effect on your photo where you can select a part of the photo and focus on it and blur everything around it.  Here is an example of the tilt-shift photography.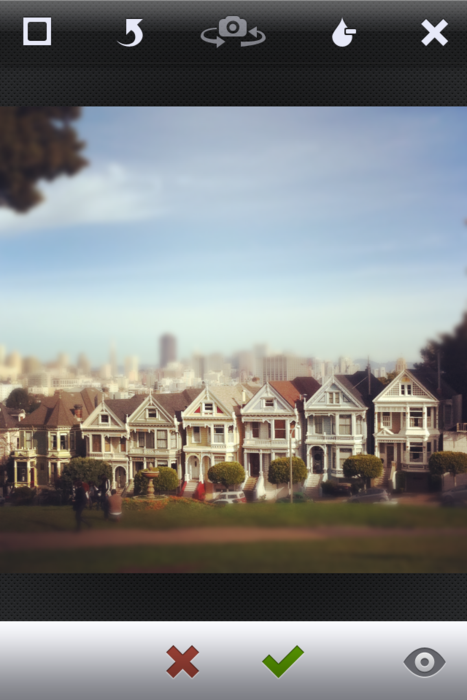 Overall, I think the Instagram for Android is working just fine and all of those missing options, features and filtered effects will be added on the next updates – hopefully.
So if you haven't tried Instagram on your devices, here are the links.