Hello everyone, how's everyone doing? Today, we are about to discuss one of the most critical and perilous issues on how to bypass a Windows 10 password if you forget it.
It happens to everyone once in a while when they forget the password of their Windows 10 laptop or computer and you can see that the internet and the Q&A forums are filled with these questions asking for solutions.
Well, this is a panicking situation since without inputting the correct password you won't be able to use your own computer.
That means, all the files, documents, pictures, folders, software, etc. are automatically inaccessible. So, if you want to use your computer urgently then this can be a very devastating situation.
But again, do not fear, since there are many solutions to diminish this issue and in this tutorial, we are going to share a few of them.
The first and immediate solution to recover the password
The first solution is eligible if you forgot the password of your Microsoft account since it is one of the account types available in Windows 10. In that case, you can visit account.live.com/password/reset from your smartphone or a different computer and choose "I Forgot My Password".
Microsoft will ask you a series of questions that you need to fulfill correctly like your Microsoft email ID and the way you would like to receive the OTP.
After completing the procedure, you should be able to set up a new password for your account that you can use to enter into your Windows 10 computer.
What are the Cons
Only valid for Microsoft account types and not eligible if you are using local user accounts.
An internet connection is required to reset your password.
Doesn't work with an older version of Windows computers.
If you forgot your password locally
If you are using a local or administrator account on your computer then you will surely fail to use the above trick. In that case, you should be able to bypass the Windows 10 password by using the password reset disk if you have set up one before forgetting your computer password.
To use your password reset disk, simply click on "Reset Password" located just under the password field. If you are confused then see the picture below for reference.
Tip: If you don't see that option, then try entering the wrong password 3-4 times and it will appear automatically.
The password reset setup wizard should appear now where you will have to select the partition drive where you have saved the password reset disk files. Now, simply enter a new password for your computer and restart your PC. That's it, you may now use this new password to access your computer normally.
What are the Cons
Password reset disk must be created before you forgot the password.
Only works with the selected computer where you have created the password reset disk.
Even if you fail with the above method then do not get stressed since we have saved the ultimate method to reset Windows 10 password by using iSeePassword – Windows Password Recovery Pro.
What can iSeePassword – Windows Password Recovery Pro do?
Bypass password for any Windows version laptop or computer which includes Windows XP, Windows 7, Windows Vista, Windows 8, Windows 10, and all older versions of Windows servers.
Add or remove user profiles from your computer directly using the software
Remove passwords from all accounts types including local, administrator, and root accounts.
Password reset disk can be made using both USB drivers and CD/DVD.
Free lifetime support – 24X7
High-class tutorials are available to guide you on how to use this program.
Elegant and simple design so that everyone can use this program without any problem.
How to bypass Windows 10 password using iSeePassword – Windows Password Recovery Pro?
This software is pretty straightforward to use, there's no enigma or any confusion since the user interface is pretty self-explanatory. First, you will need to grab a distinct laptop or computer that you can use to install the program. Then launch it and insert the USB flash drive or CD/DVD to start creating the password reset disk.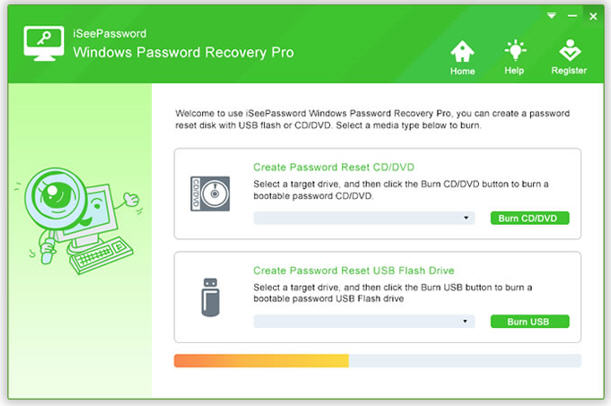 If you use CD/DVD then click on "Burn CD/DVD" and if you use a USB flash drive then click on "Burn USB" to burn all the files from the program to your portable device.
Now, the next part will be the final step of this guide. Turn on your PC and use the password reset disk to boot from. iSeePassword should activate immediately and if it doesn't load automatically then change the boot order from BIOS settings.
Now you should be able to see all the user profiles available on the computer. Select the main user account that is yours and choose the OS version that you are using like Windows 10.
That's all, finally, click on "Reset Password" and you are done. Restart the PC and use your computer normally.
See the below pictorial view to understand how it works.
Basically, this program nullifies the password to nothing, so that the login screen totally disappears from the screen. Hopefully, you guys enjoyed this guide and were able to bypass the Windows 10 password. In case you also want to recover your Microsoft Internet Explorer or Microsoft Edge password, you can check it here. Do not forget to leave a comment below to discuss any queries.