Acer Iconia A200 is now available in the market but as much as I don't want to disappoint you, this is not the next generation of the Acer Iconia tablet. Late last year I posted an article about the promising new products of Acer featuring the "button-less" notebooks and tablets and it looks like they didn't won over their competitors.  Acer Iconia A200 is the company's bet to win again the hearts of those gadget lovers with a price lower than their competitors especially with Apple's iPad and iPad 2 who is said to be the best selling slated device last year.  Acer Iconia A200 tablet is now available for a price of $349.99 from Best Buy or if I convert it to our local Philippine currency it will be around PhP 15,000.00 more or less.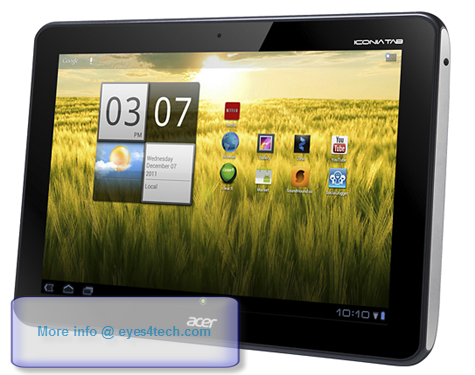 If you're thinking that there some awesome new features with Acer iconia A200, well it's pretty much the same with what's on the tablet industry nowadays.  It has the same screen size display as with the  other Android tablets which is 10.1 inches sporting a 1280 x 800 pixels screen resolution.  Then it is powered by Tegra 2 1GHz dual processor and comes with a 2MP front-facing camera. This tablet also have the following ports which is also available on most Android tablets like the USB port and micro USB, headset jack, power port and a microSD slot port.  As for the Android OS, Acer Iconia A200 will be shipped with 3.2 Honeycomb Android OS platform but according to ACER this tablet is Ice Cream Sandwich (ICS) ready and if you take this home now you might be able to upgrade it now to ICS.
With all of these same features compared to its competitors, there are still some features that you may still enjoy with Acer Iconia A200 tab.  First, the company Acer describes Acer Iconia A200 as a tablet with almost all of the functions and capabilities of a regular Android tablet but still not pricey and it is "very affordable".  So if your budget is quite tight and you still want to have your own Android tablet then I guess this is the most recommended Android tablet for you.  Also, this tablet sports the virtual command center which is pretty much the same as with A510. Another included feature is the HTC Sense-like lock screen on its display. There are other custom UI functionality that you might enjoy.
If you're interested or if you want to check out more about Acer Iconia, check it here from Best Buy