Data stored on your storage devices are insubstantial and may lose somehow, either sooner or later.
Any unwanted situations are often responsible for deleted or lost data which throws you in deep trouble such as accidentally deleting files & folders, unintentionally deleted a folder while it's containing some vital documents, virus attacks to your system and damages files, etc.
What you would do if ever caught in such circumstances? Panic, right?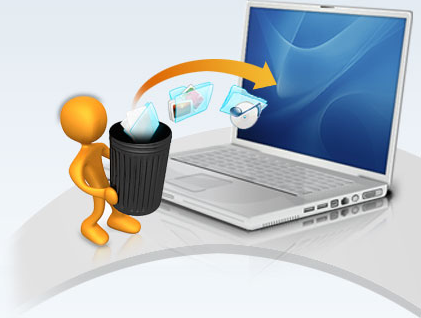 Just keep calm and hunt for an efficient data recovery program, specially created to handle such circumstances with ease and able to recover all your files without compromising their quality or losing the actual data.
The recovery program will deeply investigate the storage device and locate files that have been deleted or formatted recently.
How recovery programs can find deleted files? The first thing after starting the scanning procedure, recovery software will look into the MBR (Master Boot Record) of storage devices where directory information of any or all the deleted files is stored.
Recovery programs will list them with a red cross sign in front of it, so you could easily find all the deleted files and then restore them back on your computer.
There are several recovery programs available online which claim to recover 100% of deleted data without damaging its quality.
However, in reality, most of them fail to deliver which it promises to. Moreover, it can make the situation worse by overwriting or damaging the deleted files. It's recommended to carefully choose the recovery programs and free yourself from any risks associated with them.
Here are the five common yet crucial questions to keep in mind before opting for recovery software to handle critical situations of data loss:
1. Will the recovery software work in your particular situation of data loss?
Recovery software is designed to work in almost any situation of logical data loss and is able to get back your files.
Though in some cases recovery programs just can't work and you may not able to recover any of your files whatsoever.
Most software doesn't have the capability to detect higher capacity storage devices or devices purchased long ago.
Moreover, recovery software also can't detect RAW formatted hard drives and thus, recovery from such devices isn't possible at all.
Do read carefully all the features and capabilities of such programs before putting your money on the table.
Also, make sure that you've all the prerequisites and gone through all the guidelines to use the program efficiently.
There is very little software that offers recovery from RAW labeled partitions or hard drives and which supports larger capacitive storage devices, say 2 TB or more.
2. Have a Money back or return policy?
Software manufacturers use to offer 100% money-back guarantee on their product under certain situations such as, the software won't work at all as advertised, it can't detect your device even in the situations the software claims to detect, software can't recover any file deleted from a healthy drive and which isn't overwritten.
You can get all your money back that you've invested while purchasing the software if the software can't fulfill the desired operation as it claims to do.
Though, below are the guidelines you should follow to get back your money successfully:
Go through the available user and installation manual and make sure that you won't miss any necessary steps to recover files
The files weren't overwritten or being damaged by malware. The virus uses to damage the file header information and make it nonreadable by any application even after recovery.
You weren't trying to recover files from the encrypted or password-protected storage devices.
Make sure to read any disclaimer or return policy advised by the company before purchasing the software in advance.
3. What do existing customers say?
Users like you who already gone through data loss situations in the past and tried one of the software you are going to use.
It'll help you in discovering the most vital history or capability of any particular software and may greatly help you in ending up with the right software that exceptionally performs well.
Customers tend to leave any positive or negative feedback on the download engines if they want and can greatly help you in deciding the best way to go.
So the first place for you to look is download engines like Download.com, softpedia.com, and similar.
Do read reviews and feedback from the existing customers and decide yourself about whether the company is legit and offers really great software that can bring a smile to your face.
4. Tested by experts or not?
Software reviewers and experts from around the world keep reviewing famous and useful software for the sake of easiness. They seriously employ series of benchmarking steps and test the software capability by creating a tough testing environment.
Finally, they release their own remarks and feedback about any software. Reviewing sites like Top Ten Reviews are one of the most popular websites that provide such kinds of reviews to help users make better decisions.
5. Will it give a demo or not?
Recovery software is always available in the 'try first, purchase letter' theme which allows users to test the software before purchasing.
The Demo version has certain restrictions such as the only preview of recoverable files can be seen and saving is disabled. The files can be recovered only after buying out the premium license key. Demo version restrictions didn't apply to free recovery software.
Have you tried any recovery software in the past by using your own research, don't hesitate to share it with us as it can help our fellow readers in choosing the right software. We also welcome your feedback or comment!!